Winterdown Riding Club qualified for the final of the Horseware Team Show Jumping Championship after a five-way jump-off last Sunday.
13 teams representing nine clubs took part in the qualifier for clubs in the West Leinster region of the Association of Irish Riding Clubs at Coilog where Chris Byrne set the challenge over the coloured poles.
After the opening round, Rathfarham and last years national championships Greenhills were level with nothing to add. Abbeylands, Killcarrick and two teams from Winterdown were further back on 4 penalties while another Greenhills team was further back on 5 penalties.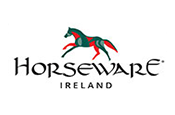 The pressure told in the second round as Rathfarnham dropped out of contention after Kellie Adamson (Ark Supreme) and Ailbhe Lawless (Riverfalls The Pied Piper) couldn't replicate their earlier clear rounds to leave the Dublin based club out of contention. Greenhills also faultered in the second round after they picked up 8 penalties which left them level with Abbeylands, Killcarrick and two teams from Winterdown to force a five -way jump-off to decide the honours.
Julie Coyne, who was drawn first, set a target of 49.27 on Rully after the Killcarrick captain left all of the fences intact. Ann Benson (Naoise B) followed but crossed the line in 48.78 with a pole on the floor.
Valerie Joy entered next and shaved almost 5 seconds off the target on Intro-Link Larry to take the lead for the Winterdown club on 44.57.
Winterdown's Caoimhe Delaney (Daring To Dream) returned home with two fences on the ground while last to jump, Roland Dalton had the better hand timewise as the Greenhills captain crossed the beam on 44.44 but Mrs Maggie had the first fence down.
The Winterdown quartet of Elaine Butler (Miss Monroe), Karl White (Ballyhaunis Lad), Denise Prendergast (Coldstream Arkonvella) and Valerie Joy (Intro-Link Larry) qualified for the Dublin Horse Show in August.
https://www.facebook.com/WinterdownRC/videos/10156265230659098/
The Killcarrick team of Anne Moran (Danescastle Firefly), Sinead Ellis (Westcoast Cougar), Karyn Jamieson (Empress Calisto) and Julie Coyne (Rully) will contest next months wildcard qualifier at the Riding Clubs Festival in Mullingar.
(Image: www.saggitarianphotography.eu)