Carne Riding Club may have missed out the team championship title at the TRI Equestrian National Eventing Championships last Sunday but two of their members walked away with national championship titles.
Jennifer Kehoe won for the second year running in the intermediate championship, this time on Hilltown Hero. The Bridgetown resident impressed Ann Glynn to take the lead after dressage on 27.0 and Kehoe claimed the title after her 8-year-old ISH brown gelding put in a faultless performance to add nothing after the jumping phases.
It was a narrow win for the Wexford rider as Donna Murray followed closely behind on her dressage score of 28.5 for Dalysgrove.
Kehoe was delighted with her win and said,
I've had a fantastic season on Hero since I took over the ride from my sister Nicola, who was on maternity leave. We won two rounds of the Bucas Horse Trials League earlier this year.
"He always does a nice test and he didn't let me down on Sunday although the show jumping seemed to cause some problems, he took it in his stride which took the pressure off me for the cross-country as he loves that and he really took on this well-built galloping track," she added.
Karen Feleki picked up the other title for the club in the advanced primary championship. The Duncormick resident, who only joined the Association last year, was lying fourth after dressage on 31.3 behind Clonlara's Elaine Kinsella (Knocklucas Eclipse) on 23.5.
Kinsella however, encountered difficulties across the country to drop out of contention while Feleki put in a faultless performance on her 8-year-old skewbald gelding, Archibald Wells to move into pole position after the show jumping phase moved several riders down the leaderboard.
Bel-Air's Dell Quinn, who is emigrating to the USA later this month, took the runners-up slot on Clooninsla Stan. The Kilcoole resident also completed the day on her dressage score of 32.0 to move up the rankings.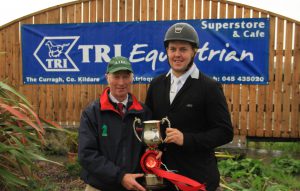 18 riders contested the advanced intermediate championship where Pat Sheehan lead after dressage on LVS Buzz Lightyear on 28 penalties. The Kerry member added a further two time penalties on his 8-year-old ISH chestnut gelding in the show jumping phase to finish on 30.0.
It was a narrow victory for the Killarney resident as Castle Hill's Mairead Dolan finished on her dressage tally of 31.5 on Master Touch in second place.
In the open and advanced open championship, Kate Solon was the only rider to finish on her dressage score of 26.5 on Sharragh Watermill. The Greenhills rider had almost 3 penalties to spare over second placed Caroline McQuillan who led after dressage on Foxtail Orchid but the 8-year-old- ISH gelding picked up an additional 4 penalties over the coloured poles to finish on 29.3.
Meanwhile there was also classes for those who did not qualify in the non-championship classes and the largest field of the day was in the intermediate division where 34 riders competed.
Nine riders completed the day on their dressage score where Tara O'Donoghue finished out in front on Kilcolta Swift Shore. The Lismore rider score an impressive 20.5 penalties in front of Liseanne Kearns to claim the spoils.
Kerry's Aoife Walsh was next best on a total of 23.8 who put in a faultless performance on Asha in the jumping phases.
Walsh's clubmate, Kate Logan picked up Kerry Riding Clubs second win of the day in the advanced primary division where the Killarney resident was the only rider to register a sub 30 score on 28.0 penalties on West Bay.
In the advanced intermediate section, Bevin Sice (Millridge Kalmar) led after dressage but added a further 9 penalties after show jumping to give the Waterford rider a total of 38.3 penalties in second place.
Tara O'Brien claimed the spoils on Larrainn added just 4 penalties over the coloured poles to claim the honours for Highland Lodge on 36.0.
Emily Vial led from start to finish in the young horse division for 4 and 5 year olds after Heathfield Lady Ellen, a 5-year-old Irish Sport Horse grey mare, finished with nothing to add after show jumping and cross country 01 31.8. It was an improvement for the Clonshire rider who finished fourth last year on the same horse. Carne's Fidelma Clare was in second on Ok Miss Rosie on 32.3.
Photos by Bit-Media unless otherwise stated.