Ross House Riding Club dominated proceedings at the Horseware Team Show Jumping Qualifier last Sunday where the claimed three of the top six places.
Michael Kavanagh set the challenge for the 18 teams, representing nine clubs, which took part in the Midlands qualifier at Kilrainey Equestrian Centre, Co. Kildare.
https://www.facebook.com/rosshouserc/photos/a.631984583665147.1073741830.596590340537905/785767548286849/?type=3&theater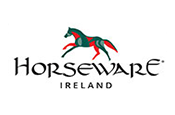 At the end of the competition two team from Ross House were level pegging on zero to force a jump-off between the teams but it was the quartet of Kerri Goodison (Triumph Of The Spirit), Jimmy Griffith (Clancy The Second), Lisa Mullen (Melody Boy) and team captain Aileen Mc Dermott (Amber Deluxe) who claimed the spoils.
McDermott was the quickest of the two captains in the speed round after both returned home with a pole on the floor.
https://www.facebook.com/ann.bloomer.9/posts/10157291999798539
Ross House also claimed second place but under the rules of the championship, Mo Chara Riding Club who was third will go forward to contest the wild card qualifier at the Riding Clubs Festival in Mullingar in June.
(Image: Eileen Doran)