The extent of Covid-19 supports given to Horse Sport Ireland (HSI) affiliates has been revealed, with the sector's governing body providing over €2m throughout the sector to keep it afloat during the pandemic.
Like so many industries, the sport horse sector struggled as Covid-19 hit but, thanks to Government, Sport Ireland and HSI financial help, they could remain in operation and keep staff in employment, allowing the sport return to participation.
In total, €2.14m was awarded to HSI affiliates (see table below) from top to bottom, with funding handed out across the industry.
Minister of State for Sport and the Gaeltacht, Jack Chambers, TD, said: "Just like so many industries and sports, the Horse Sport sector needed Government support to maintain employment and ensure participation from grassroots through to elite level. The Covid funding schemes administered by Sport Ireland were an important support for sporting organisations and I am pleased to note the range of equestrian sports that benefited from the schemes.
Over the last two years, we saw how important sport and physical activity was, not just for people's physical wellbeing but also for their mental wellbeing. It is important now to ensure that people are encouraged to return to sport."
Chief Executive of Sport Ireland, Una May, added: "The injection of funding at all levels of sport was necessary and most welcome as we navigated through the crisis.
"We all saw how challenging it was for all sporting organisations through the pandemic and it was imperative that we put the necessary supports in place for those organisations who were still permitted to compete during the pandemic.
"Following that, it was also crucial for us in Sport Ireland to provide the support to sporting organisations to pick up where they left off before the virus and that organisations who had suffered financially were supported as they looked to get back on their feet."
HSI Chief Executive, Denis Duggan, said: "It was vitally important that we, as an organisation, did everything we could through the pandemic to support our affiliates not only stay afloat but also, when the time came, return to participation.
"It was an extremely challenging time for everyone in the industry but, as we know, outdoor sports and the outdoors provided an escape for everyone over the couple of years of the pandemic.
"To have been able to provide the supports for our affiliates when they needed it the most was crucial. Funding provided to events helped them remain viable during the restrictions imposed on sporting organisations and beyond.
"It covered costs for the likes of contact tracing personnel, for covid compliance officers and additional equipment to ensure the events ran under the Covid rules – be that personal protection through hand sanitisation, social distance signage and all of things that became habit through our day-to-day lives.
"As the governing body in Ireland, we needed to ensure that all our affiliates could keep running through Covid-19 and I'm very happy that, through this scheme, they were able to do so."
Covid-19 supports given to Horse Sport Ireland (HSI) affiliates: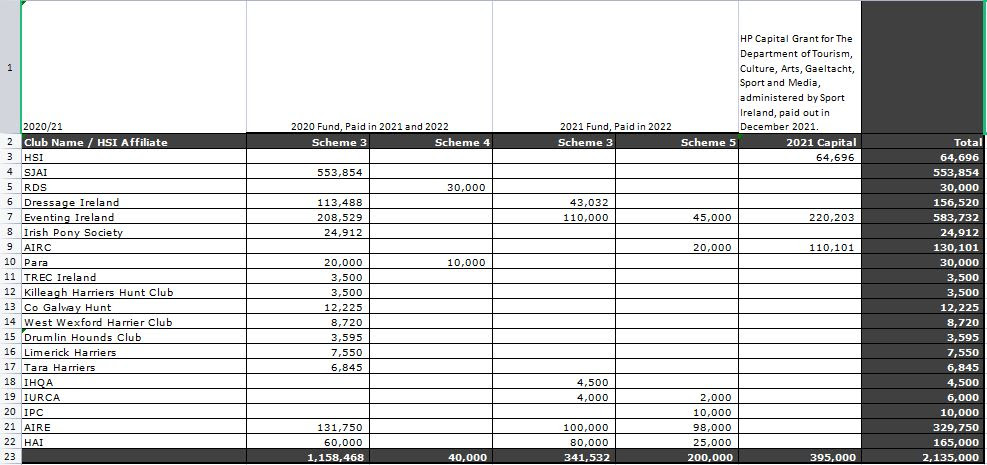 Image:  Jack Chambers TD, Minister of State for Sport, the Gaeltacht & Defence, on a visit to Horse Sport Ireland Headquarters in Naas, Kildare. Photo by Stephen McCarthy/Sportsfile