Killossery Riding Club won the Horseware Team Show Jumping Championship after a two-way jump-off at the Dublin Horse Show last Sunday.
Aoife Maguire proved crucial for the winning team as the captain had to jump a clear round in the second round to force a jump-off which she duly delivered on Mane Attraction. The Enfield resident went to seal the clubs second championship title in 4 years with a rock solid performance over the reduced track on her 15-year-old bay ISH mare.
[wpdm_package id='73832′]
Team Chef d'Equipe Laura Glynn said, "I'm delighted with how all of the team jumped as they've worked so hard in recent months with ongoing training and shows. It's an honour for the club to be part of the final against the best riding clubs in the country."
"It was nerve-racking with the pressure on team captain Aoife to jump clear, we were fortunate being drawn second in the jump-off but Aoife pulled out the stops and jumped a foot perfect round," she added.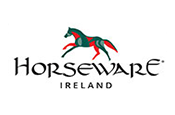 Over 125 teams sought qualification around the country earlier in the year with the top nine teams going forward to the final which took place in the Simmonscourt arena where only six double clear rounds were recorded over Paul Duffy's 12 fence track which included 15 jumping efforts.
After the opening round, Brooke Lodge and Killossery were out in front as both teams had a clean sheet. Corrib and Winterdown were next best on 4 penalties while 2009 champions, Carne, had 5.  Newcomers, Earl's Well followed on 8 while Clonshire were further back on 13. Thomastown and District and Ross House completed the line-up after the first round on 16 and 26 penalties
respectively.
The nerves had settled in the second round for Ross House as the Midlands team improved on their opening performance to add just 8 penalties to finish on 34 in ninth place. It didn't go so well for the Cork based Earl's Well club who dropped down to eighth place after the three member team racked up a further 25 penalties to finish on 33.
Thomastown and District could not improve on their opening tally after they picked up a further 16 penalties to finish in seventh on 32 penalties.
Clonshire added a further 12 penalties to finish on 25 in sixth place while Corrib, who finished in fourth place last year, could not improve on this occasion as the Galway based club had to settle for fifth on a total of 16.
Winterdown just missed out on a podium finish as the Kildare based club finished on 8 penalties where Elaine Butler (Miss Monroe) and Denise Prendergast (Coldstream Arkonvella) both produced double clear rounds for the team.
The wild card winners, Carne Riding Club, improved on their opening round performance as they were the only team to keep a clean sheet in the second round with clear rounds from Breda Rowe (Kilminchy Rodreigo) and Ann Lambert (Killinick Bouncer) while Christine Keymer provided a double clear round on Dazzling Star.
Their opening tally of 5 penalties, however, proved costly as it kept them out of the jump-off between Brooke Lodge and Killossery who both ended the second round on four penalties.  It went right down to the wire as last to jump in the second round, Aoife Maguire produced a much needed clear round to force a jump-off.
With the teams jumping in reverse order of merit, the Brooke Lodge captain Jade Morton was first to take on the shortened track on her 15-year-old bay ISH mare, Highland Scarlett. Morton, however, unfortunately knocked the second and third fences and crossed the line in a time of 42.57.  
Maguire, again kept her cool, and opted for a steady clear round which Mane Attraction delivered, in a time of 53.16, for the third time to give the North Dublin based club their second win in recent years.
https://www.facebook.com/killosseryridingclub/posts/848019302074174
Maguire said afterwards, "I actually thought I had a pole down in my second round so I was shocked to hear the music and it was then I found out we were actually clear and into the jump-off.  Being second in the jump-off was a huge advantage as I could see what had to be done."
"I knew Jade would be quick but when she had 8 faults I changed my strategy with the aim of just going for a clear and Shadow delivered. I'm absolutely delighted with my super little horse as she's been such a good servant. It was great that it went to a jump-off as it makes it really exciting for everyone involved.  Thanks to Brooke Lodge for a great competition," she added.
It was a team effort from the new champions as Maguire and Yvonne Lang (Sacro Pride) contributed double clear rounds while Patricia Foley (Killeagh of Ballyglass) also produced a clear round for the team with the clubs secretary, Lisa Kennedy, making up the all-female quartet on Dunsoughly Nelson.
Brooke Lodge were unfortunate to take the runners-up spot after their two-round performance but they can be encouraged by the fact that it was the highest placing in recent years for a team from South Leinster.  Emer McNamee returned with a double clear on City Start for the South Dublin based club while Natalie O'Keeffe (Paddy's Cruising), Avril Clear (Killerisk Amanda) and Jade Morton (Highland Scarlett) all provided clear rounds.
Meanwhile, Corrib Riding Club won the best turned out award for the second year in a row.
https://www.facebook.com/147599058608901/photos/a.617526321616170.1073741829.147599058608901/1833005483401575/?type=3&theater