Carne Riding Club continued their dominance of the TRI Equestrian National Eventing Championships last Sunday with four wins including Jennifer Kehoe's three in a row in the intermediate championship while Ann Lambert walked away with the open and advanced open title.
Jennifer Kehoe showed her zest for eventing as the Bridgetown resident not only claimed the intermediate championship for the third consecutive time but also took the runners up ribbon as well at Kilguilkey House near Mallow, Co. Cork.
Kehoe took the lead after dressage as Hilltown Hero impressed Shota Nikura to score 24.4 and after a faultless performance from her nine-year-old ISH brown gelding after the jumping phases, the Carne rider added yet another championship win to her collection.
North Cork's Vojtech Kroupa was lying second after dressage but was eliminated over the coloured poles, this left an opening for Kehoe to claim the runners up ribbon on Westwinds Mr Cool who also had nothing to add after the jumping phases to finish on 27.8 to round off a memorable day for the Carne rider.
Kehoe was ecstatic with her win and said,
It was a great end to another fantastic season with Hilltown Hero and Westwinds Mr. Cool. I qualified on both horses on my first day out and since then they've been in the ribbons every week. I couldn't ask for anymore from them, to finish first and second was just unbelievable. I'm very lucky to have these two horses and a huge thanks to my sister Nicola for allowing me ride Hero
"To win this competitive class three years in a row made yesterday extra special and it definitely makes the early start and long drive worthwhile. Kilguilkey House is a super venue with a well-built galloping track, which mine love and despite the weather the ground conditions were good and the course, as always, was challenging. It was a brilliant day for Carne and it's great to be a part of this club.," she added.
Ann Lambert, who picked up the other championship title for the club in the open and advanced open division, was lying sixth after dressage on 41.0 but her fellow competitors found the going tough in the show jumping and cross-country where they faced 26 jumping efforts over 18 fences.
The Killinick resident, however, was one of just three riders in the class to end the day on their dressage score to claim the title on her 6-year-old bay ISH gelding, Goran Allo. It was a narrow win for the Carne rider as Emer Creedon was just behind on 41.3 after the Highland Lodge rider picked up a time penalty over the coloured poles to take the runners up ribbon on Shadow Indigo.
Lambert said afterwards, "it was an unexpected win as my horse was competing in the green horse division last year and this was a challenging course for a six-year-old. It was thrill a minute stuff jumping those big fences and combinations and the ground conditions were excellent despite the earlier heavy rain."
"The lovely friendly atmosphere at Kilguilkey and the hard work of the volunteers made it a great day all round, and of course the overall success of the Carne Riding Club was the cherry on the cake," she added.
[wpdm_package id='3575′]
Fidelma Clare was also among the winners in the young horse division for the Carne club. The Clearistown resident, who was runner up last year, went one better this year on her five-year-old bay ISH mare, Ok Miss Rosie.
Clare moved into pole position after the jumping phase and went on to win the spoils after a faultless performance across the country. Her score of 35.8 gave the Carne rider an almost 4-penalty lead over North Cork's Susan Roche (Rosses Quiet Emperor) on 39.5
In the advanced intermediate non-championship section where riders did not have to qualify, Albert Whitehead (Russelstown Bay Princess) led after dressage on 21.0 and won the honours after two clear jumping rounds ahead of Glengarriff's Gretta O'Mahony on Mealagh Chaplin on 21.8.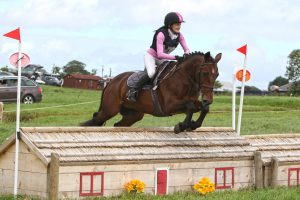 15 riders contested the advanced intermediate championship where Karen Blakely was lying in second after dressage on Belline Rover. The Unicorn rider moved up the rankings when the Clonmel resident kept a clean sheet to finish on 33.3.
Mairead Dolan, who led after dressage, dropped out of contention when the Castle Hill rider returned with 12 penalties after show jumping to finish on 44.3. Waterford's Louise Moran moved into second place when Grantstown Merlin completed the day on 34.8.
In the advanced primary championship where 19 riders started, Mary Deirdre Kinsella led after dressage and show jumping but the Kilotteran rider encountered difficulties across the country to drop out of contention.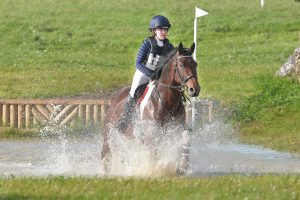 Victoria Molloy (Bouncer) was one of just two riders in the class to finish on their dressage score. The Corrib rider claimed the title on 31.3 ahead of Mill Roads Maja Rykala (Park Frodo) who was the only other rider with nothing to add after dressage on 34.5.
In the non-championship division, Martha Buckley led from start to finish on Lady Rua. The Clonshire riders tally of 25.9 kept Buckley ahead of Highland Lodge's Jane Walsh (Magneto Gold) on 27.0.
Meanwhile in the intermediate non-championship class where 19 riders took to the field. Seven of those completed the competition on their dressage score including Amada Heir who claimed the spoils on her 11-year-old bay gelding, Aztlan K. The Slieve Blooms riders total of 31.4 gave her a narrow win over North Cork's Rosemary O'Connor (Ballymaquirke) on 32.2.
(Images: Bit-Media)