For the second year running, Niamh Macken on Diamond King Henry won the Horse Sport Ireland Irish Draught Award for the highest-placed Irish Draught in dressage at last month's AIRC Riding Clubs Festival.
Three Irish Draughts scored in excess of 70% with the Mullingar club member achieving 75.45% in The Irish Field-sponsored RC Preliminary 3 competition on her 8-year-old bay gelding, bred by Michael Reynolds.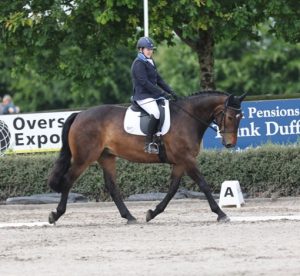 Niamh Macken was delighted with the win and said afterwards, "I bought Henry, who is by King Alton out of a Rosheen Yeats mare, as a 4-year-old, 4 years ago. He first caught my eye as a foal, as he was kept in a field near enough to my house and I used to always slow down passing the field to get a look at him but I never knew who owned him."
"He then turned up on the yard I'm at, as Eddie and Camilla Igoe had bought him and his dam from his breeder, Mike Reynolds, who is a friend of theirs. I kept an eye on him as he grew up on the yard and stepped in to buy him just after he was backed as he was very quiet and easy to do. I'm not the bravest person so temperament is everything to me, I can go anywhere on my own with him, he is a gentleman, and always tries to please."
"At the AIRC Riding Clubs Festival he brought home a rosette in every class he was entered in with a 1st in the Prix Caprilli dressage, 2nd in the Heavy Weight Hunters, 3rd in Irish Draught Showing, and 3rd in RC Preliminary 3 Dressage, which had over 50 entries."
"Thanks to Horse Sport Ireland for the award as it's a great idea and nice to be recognised, there is nothing a good Draught can't do. To win it two years in a row is something very special to me," she added.