Thomas Daniels assumes the role of vice chairman of the Association of Irish Riding Clubs, replacing Kevin McGuinness who held the post since 2010.
Kevin McGuinness did not seek re-election to Board of Directors on Saturday due to work commitments with Daniels elected by his colleagues at a meeting prior to the Annual General Meeting at the Killeshin Hotel.
Tony Ennis was also re-elected by the Board to serve another one-year term as chairman. Ennis thanked Kevin McGuinness for his, "dedicated service to the Association since he was first elected to the board in 2003. During his time with us, he played an integral role within the Association."
"He had a keen interest in showing and I hope that he will continue to contribute in his capacity on the National Committee and as chairman of the AIRC North East," he added.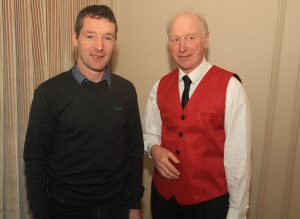 Meanwhile, Thomas Daniels and Melissa O'Connor were re-elected by the National Committee to serve another three-year term on the Board of Directors (Executive Committee). Louise Somers was also elected for the first time to the Board to serve a three-year term. Jane Power, who was also on the ballot paper, did not get elected on this occasion.
National Committee Election Result 10th February 2018
Thomas Daniels, 21 votes, Elected
Melissa O'Connor, 15 votes, Elected
Jane Power, 7 votes
Louise Somers, 20 votes, Elected
The elections took place prior to the Annual General Meeting of the Association of Irish Riding Clubs at The Killeshin Hotel in Portlaoise, Co. Laois.
During the AGM, Helen Mangan was returned unopposed as president for the honorary position for another term, a post she has held since 2005 while Gerry Thompson was also returned unopposed for the vice president position for another year.
During the open forum part of the meeting, the relocation of the Riding Clubs Festival proved to be a talking point among those present.