Greenhills Riding Club won the Horseware Team Show Jumping Championship last Sunday after a nail biting finish as their captain required a clear round to secure the title at the Dublin Horse Show.
Grainne Alexander, who was last to go in the competition, jumped a much needed clear round on her 15-year-old chestnut ISH mare, Knockenpower Ginger. Her performance left the Kildare based club out in front on a total of 4 faults to claim the spoils, having last won in 2014.
[embedyt] https://www.youtube.com/watch?v=plgh2p6k1QE[/embedyt]
Team Chef d'Equipe Mary Kane said, "'We are so delighted to have won this competition. Although we have been lucky to win it before, this year was a special occasion. My daughter Grainne, her sister in law Olwyn and my son in law Roland were on the team as well as one of our most loyal and longest serving members, Clare Stanley."
"They all performed brilliantly in a high-class field of competitors and I couldn't be prouder of their achievement," she added.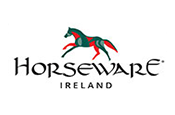 Over 130 teams took part in qualifiers around the country with the top nine teams going forward to the final which took place in the Simmonscourt arena where nine double clear rounds were recorded over Paul Duffys' 12 fence track which included 15 jumping efforts.
After the opening round, Corrib and Greenhills were leading on zero penalties while Carne and last years winners, Highland Lodge, were next best on 4 faults. 2015 winners Killossery were lying in fifth place at the halfway point on 6 faults while Ross House and Springmount were further back on 8 faults. Greenvalley and Mill Road brought up the rear on 13 and 41 faults respectively.
It was a topsy turvy second round as the leader board changed numerous times as the competition progressed, however, the three member team from Mill Road could not improve on their earlier tally to finish bottom in ninth. They were unfortunate as Sarah Neville was a late withdrawal due to an injury sustained leading up to the final.
Greenvalley also couldn't move up the placings after the Wicklow based club added a further 8 faults to finish on 21 while defending champions Highland Lodge dropped down the field to finish level with the Wicklow club after they added 13 faults in the second round. The Cork based club, however, had the quicker time to take seventh place ahead of Greenvalley.
Springmount added a further 8 faults to finish on 16 in sixth place, an improvement on their seventh place in last years final.
Ross House staged a late come back when they had nothing to add to their opening tally of 8. This brought them level with Carne who picked up a further 4 penalties in the second round and Corrib who also dropped out of contention when they racked up 8 faults.
The newcomers from Ross House had a six second lead over Corrib to move up into third place ahead of the Galway based club who in turn had less than a one second advantage over Carne in fifth.
The Killossery club returned with a clean sheet in the second round to finish on their opening tally of 6 penalties to leave them in second place in a repeat of the 2014 championship where they also finished behind Greenhills.
However, It certainly wasn't all plain sailing for the Kildare club as it all came down to their team captain who was last to jump after Roland Dalton produced a double clear round on Mrs Maggie for the team while Clare Stanley (The Countess of Kerry) returned with two fences on the floor and Olwyn Butler (Santero) lowered the fifth fence on the course.
This left their captain, Grainne Alexander, with no room to manoeuvre as a single fence down would hand the title over to the North County Dublin club but Alexander was in no form to relinquish the title.
The Sallins resident produced a foot perfect and determined looking round from her Irish Sport Horse, Knockenpower Ginger, and crossed the beam with all fences intact nothing to take the honours for the Kildare club for the fourth time since 2003.
Alexander said afterwards,
It really came down to the wire. I was last to go but the penultimate team from Corrib had the advantage in that a clear round from them would have secured the win. When that didn't unfold the opportunity arose for us to take the title, but I had to jump clear. Thankfully, the mare jumped as if she knew what was at stake and we did what was needed to win the magnificent trophy. It was a super competition with great sportsmanship from all teams